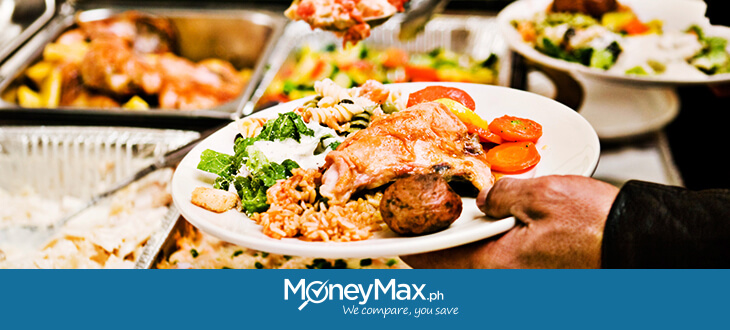 One of the highest priorities in any gathering of friends or family is food. Larger groups often go for buffet restaurants, as they offer more variety when it comes to food, though some restaurants specialize in one form of cuisine. Check also some credit card promos if there are discounts in any buffet-style restaurants near you.
Read more: Hungry? Take Note of These Buffet Promos in Metro Manila
Here's a look at some of the best yet super affordable restaurants that go buffet style:
Yakimix
Specialty: Japanese, Korean, Chinese
Budget per Person: Weekdays - Php588 (Lunch) and Php688 (Dinner), Saturdays - Php628 (Lunch) and Php728 (Dinner), Sundays and Holidays - Php728 (Lunch and Dinner)
Location: Greenbelt 3
Nobody's a stranger to Yakimix and its fusion of Asian flavors. This particular restaurant highlights grilling all kinds of meat and seafood in certain flavors endemic to Japan, Korea, and China. One of the fastest dishes that go is the seafood tempura, so look out for it when you visit.
Buffet 101
Specialty: Asian, European
Budget per Person: Php900
Location: Greenbelt 2
This restaurant boasts a large selection of Asian and European dishes, and cutely arranged gourmet desserts. The ambiance is quaint, and for foodies who like a little beer with their seafood, draft beer is among the drinks you can have when dining here.
Dad's/Kamayan/Saisaki
Specialty: Multiple
Budget per Person: Dad's - Php688 to Php888, Kamayan - Php638, Saisaki - Php638 - Php838
Location: Glorietta 3
A fusion of three different restaurants, this place offers three huge sections of food to choose from. The one caveat is that you cannot have any left-overs, or you may incur an extra charge. As wide as the range of food is, some stand out more than the others – the Kare-Kare that Kamayan offers is to die for, with or without bagoong.
Cabalen
Specialty: Filipino, specifically Kapampangan-style dishes
Budget per Person: Php333.76 to Php398
Location: Glorietta
Home-cooking is something everyone craves, and it doesn't get any homier than the dishes at Cabalen. The restaurant's take on various Filipino dishes calls for stomachs that're wholly devoid of food to ensure maximum enjoyment. One interesting dish the biringhe – a Kapampangan take on the Spanish Paella – that is available on a limited basis.
Café Jeepney
Specialty: Filipino, International
Budget per Person: Php500 - Php999
Location: InterContinental Manila
A buffet-style café with a distinct jeepney theme, and a design reminiscent of old-style coffee shops. Serves breakfast, lunch, and dinner seven days a week, and has an a la carte menu on Sundays. If you're looking to treat your sweet tooth, try their Mango Crepe Samurai.
Tenka
Specialty: Japanese
Budget per Person: Php550 - Php700 per person
Location: Glorietta 4
Where YakiMix specializes in grilling, Tenka does so for shabu-shabu. It's got the air of a place that's great for getting friends together (and getting warm in these still-chilly days) just to hang out and catch up. Remember that choosing your soup base is key to creating the kind of taste you want your meat and veggies to have. There are plenty of sides to choose from as well.
Charaptor
Specialty: Grilling
Budget per Person: Php490 at Dinner (Mon – Sun), Php390 at Lunch (Tues – Sat)
Location: 9752 Kamagong Corner Aranga Street, San Antonio, Makati City
Charaptor specializes in all sorts of grilling and has a very no-frills vibe to it, and it serves alcohol. It's also open until midnight, so that makes it perfect for nights out when you don't really feel like hitting the party scene but want to drink and dine with friends.
Spectrum
Specialty: Filipino, Asian, Middle Eastern
Budget per Person: Php2,380 - Php2,777 (Dinner from Mon to Sun), Php2150 (Lunch from Mon to Sun)
Location: The Fairmont Hotel
Fine dining plus buffet-style is the main hook of the Fairmont Hotel's Spectrum. While it may be a little higher on the price scale, its dishes are worth it. Notable food choices here include macarons, and a honey and nut selection.
Alba
Specialty: Spanish
Budget per Person: Php825 at Dinner (Sun), 695 PHP at Lunch (Mon – Sun)
Location: 38 Polaris Street, Bel-Air, Makati City
A quaint buffet restaurant in Bel-Air that has the feel of an old Spanish cantina, Alba is the kind of place you can take co-workers to for quick lunch meetings and the like. Their tapas and paella are to die for.
Of course, these aren't the only buffet restaurants to choose from, but these are some of the best-rated (and tasting) places to choose from when you're in Makati. The trick is to find what you and your friends are craving and go from there.
People who read this also liked:
4 Most Romantic Restaurants in Metro Manila
Brunch? Five Restaurants that serve Cocktails
Restaurants with Freebies for Birthday Celebrants