Want to know how to get a driver's license faster in the Philippines? First things first: never do business with a fixer at the Land Transportation Office (LTO). Yes, it can be tempting to pay someone to complete your license application quickly. But it can cost you twice to four times the price of doing it legally. And if your license is found to be fake, you'll be charged a fine and banned from getting a real license for two years.
There's no shortcut in legally applying for a driver's license in the Philippines. Just like other government transactions, expect long queues, slow service, and lots of frustrating situations. You'll have to devote a whole day for your driver's license application, even if it means taking a leave of absence from work.
With enough preparation and a few tricks, though, the process of getting your license may only take 3 to 4 hours, or even shorter, barring any IT or system error at the LTO.
Driver's License Assistance Tips So You Won't Have to Deal with Fixers
Here are some tips you can do prior to your application to speed it up and save time. More importantly, you won't have to deal with fixers for any kind of driver's license assistance.
1. Secure a Medical Certificate in Advance
A medical certificate is one of the driver's license requirements, so you can't skip taking a medical examination. In the past, applicants needed to take a medical exam at any of the LTO-accredited clinics or government hospitals near the LTO office on the day of license application. Sometimes, these facilities were unavailable or closed.
Good thing, LTO now accepts medical certificates issued by any licensed and practicing physician, making it possible to get a driver's license faster.
To speed things up, take a medical exam at least one day up to 15 days before applying for a license. LTO accepts medical certificates issued within 15 days prior to driver's license application. You can download a copy of the medical certificate from the LTO website.
Be sure that your medical certificate has the following information:
Physician's name, address, Professional Tax Receipt (PTR) number, and Professional Regulation Commission (PRC) number
Confirmation that you're mentally and physically fit for driving, able to see and hear clearly, and drug-free
2. Complete Your Documents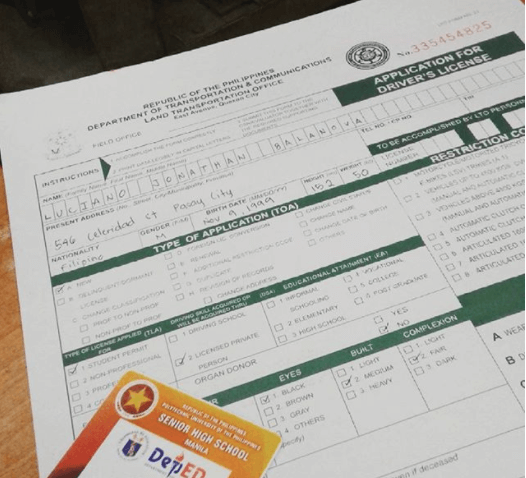 Get a driver's license faster by making sure you have all the required documents ready before heading to an LTO branch. LTO driver's license requirements depend on what class of driver's license you will apply for. You may check the requirements by clicking the link below this article:
Student Permit
Non-Professional Driver's License
Professional Driver's License
You may need to allot a week or more to secure all the document requirements for a driver's license.
3. Study and Review the Driving Courses
LTO requires applicants for a student permit to take and complete a 15-hour theoretical driving course. The good news is that you can start studying and reviewing the fundamentals of driving through the LTMS online portal. Browse the e-learning materials there to give you an idea of what you will encounter in the exams. Even those applying for renewals need to refresh their memory and go through the CDE online validation exam.
4. Practice Driving Before Applying for a License
Ample preparation can help you get a driver's license faster. This includes practice-driving in your own car to ensure you pass the practical exam during your application at the LTO office. This will also familiarize you with basic driving protocols.
Failing the LTO exams is a waste of time because you won't be issued a license. Flunk one of the tests twice, and you won't be allowed to apply for a license in one year. If you fail for the third time, you won't be able to get a license for the next two years.
Aside from driving practice, be aware of the conditions that automatically lead to failing the practical exam: hitting another vehicle or the gutter and incorrect actions that cause collision. Also, listen carefully to the instructions given to you before you take the practical driving exam.
5. Bring Enough Cash for the Driver's License Fees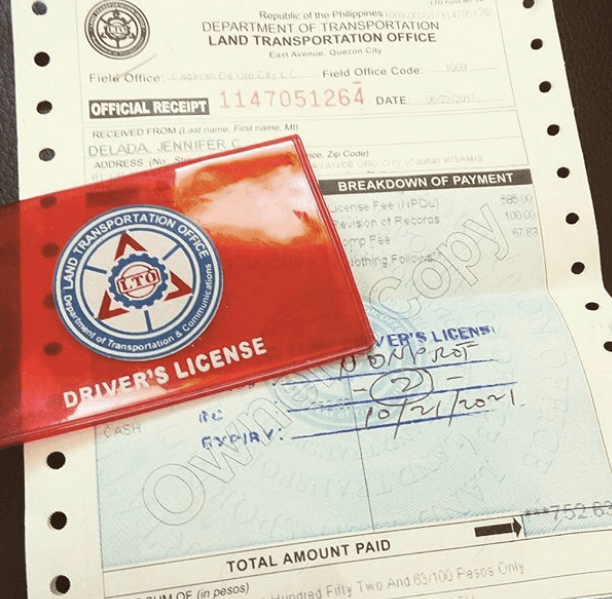 Know how much money you're supposed to bring for the driver's license fees. If you don't bring enough cash, you'll have to line up (again) at the nearest ATM, which means your application will take longer.
It also helps to bring loose change instead of paying ​​₱1,000 or ₱500 bills. You'll be paying several fees to separate cashiers, so pay the exact amount to get a driver's license faster. Know the exact fees to pay beforehand:
New Student Permit Fees (Total: ₱317.63)
Application Fee: ₱100
Computer Fee: ₱67.63
Student Permit Fee: ₱150
New Professional/Non-Professional Driver's License Fees (Total: ₱820.26)
Application Fee: ₱100
Computer Fee: ₱67.63
License Fee: ₱585
Computer Fee: ₱67.63
Other Fees
Medical Exam: ₱350 to ​​₱500
Car Rental for Driving Test: ₱250
6. Dress Appropriately
LTO requires driver's license applicants to be "clean, neat, and presentable" during photo-taking and examinations. That means you aren't allowed to wear just an undershirt or sleeveless short (for men), sports shorts, and slippers. Follow the dress code to avoid hassles and delays in your driver's license application.
7. Bring Snacks and Drinking Water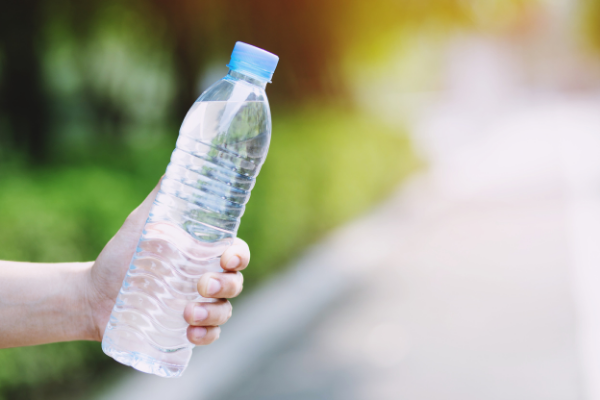 Bring enough baon that will keep you from getting hungry and thirsty while lining up and waiting for your turn. In doing so, you won't have to leave your queue and step out of the LTO office just to buy snacks or water.
Yes, you can ask the person standing behind you to reserve your spot on the line. But what if your name gets called while you're buying food outside? So better have your food and drinks ready while queuing up.
8. Avoid Parking Problems
Is it better to bring your car or leave it at home? It depends on your priority.
Most LTO branches have limited parking space, and you might spend some time looking for an available slot elsewhere. If you prefer to get a driver's license faster, you'll be better off commuting or having a family member or friend drop you off.
On the other hand, bringing your own car during your driver's license application could help raise your chance of passing the practical driving exam. Because you're already familiar and comfortable with your car, you won't need to adjust and be stressed. You also won't have to spend over two hundred bucks for renting a car at the LTO office.
9. Come Early to the LTO Office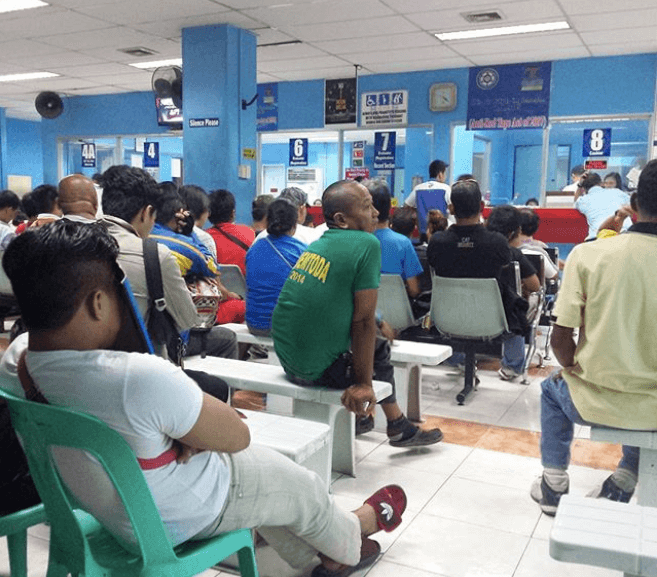 Just like any government office, LTO offices are jam packed with driver's license applicants every day, especially during peak hours and days.
But you can avoid long lines by being strategic about the time and day you arrive at the LTO office. To be among the first people in line, come as early as 7 a.m. (or even earlier.) If your schedule allows it, go to the LTO office on a non-peak day (usually from Tuesday to Thursday.)
10. Follow the Steps to Applying for a Driver's License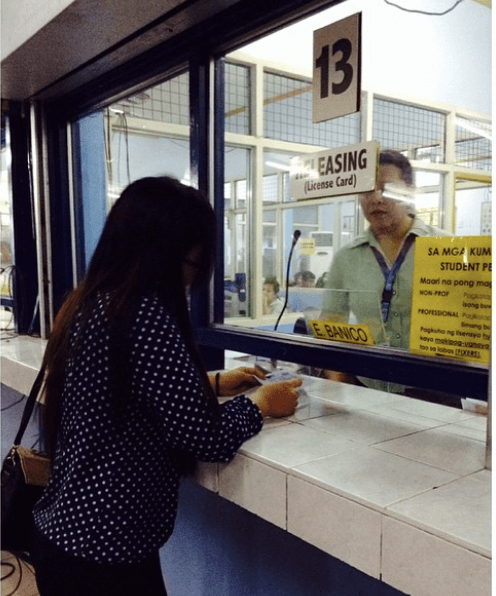 Avoid any delay—know what to expect during the driver's license application. Here are the basic steps you need to know before you apply for a driver's license:
Submit your accomplished ADL form and supporting documents to the assigned window.
Have your photo and signature taken.
Pay the corresponding fee to the cashier.
Take the written examination.
Take the practical driving test.
Pay the corresponding fee to the cashier.
Wait for your name to be called for the release of official receipt and driver's license card.
You don't want to waste time lining up at the wrong window. So check with the LTO personnel to know the right window you'll transact with for every step of the application process.
Since LTO has made the LTO online portal available for everyone, you can also register on the website and choose the type of license you want to apply for. Register for an account, supply your personal information, and the online portal will walk you through the process. After which you'll receive an email regarding your online registration.
From there, you can activate your account to complete the online application form. This will speed up the application process as you'll only need to go through the biometrics and photo-taking at the LTO branch on your appointment date.
11. Don't Deal with Fixers
These days, applying for a driver's license is a lot easier and faster because of the LTMS Online Portal, which is a one-stop solution for all LTO-related transactions and activities.
But even with the digitalization of the LTO system, there are still fixers who promise to 'expedite' the driver's license application and are now offering their services online. With a tag price, of course.
Who are These LTO Fixers?
In the pre-pandemic days, you'll find these fixers flocking outside the gates of LTO branches looking for gullible first-time applicants. They promise fast transactions and driver's license assistance in exchange for payment. They claim that they have connections inside the LTO office that will facilitate the application.
Now, they offer their driver's license assistance services online by posting on Facebook groups and looking for applicants they can victimize. These online fixers may also pretend that they're LTO employees[1] and guarantee that you can get your driver's license even in a 'no show' transaction.
How Much Do LTO Fixers Charge?
These online fixers usually offer a package deal to secure a license. But in the end, they'll issue a fake license, or worse, they disappear after you pay them upfront.
These fixers charge about ₱4,300 and offer you a no-show transaction. You'll get your student permit, medical examination, and theoretical driving course—all processed within the day.
Some online fixers also put up Facebook fan pages and outright offer their driver's license assistance services[2], with fees ranging from ₱3,500 to ₱6,000. LTO has already reminded the public not to transact with these scammers.
What Happens If You Transact with Online Fixers?
LTO has said these fixers issue counterfeit and invalid student permits and driver's licenses. Whether consciously or unconsciously using a fake ID, you'll pay the penalties if you get caught using one.
Using a counterfeit student permit or driver's license will cost you a lot more than what you'll be paying for the actual application on-site without fixers.
You'll pay a ₱3,000 penalty fee for using a counterfeit ID and receive a 1-year disqualification. The worst case scenario is getting up to six years jail time for falsification of documents[3].
How to Spot an Illegitimate LTO Online Fixer
Promises hassle-free transactions - If they promise hassle-free and too-good-to-be-true transactions, they're likely scamming you. LTO has already digitized the application process, so there's no need to work with fixers for this. As long as you fill out the online application form on the LTMS portal and complete the process, you can visit any satellite branch anytime.
Asks for upfront payment - The highest payment these online fixers and scammers could ask for is about ₱6,500. They usually offer packages and ask to transfer the payment via online banking and other payment methods. The only time you pay for your permit or license is when you're transacting at the LTO branch. You'll only be spending less than ₱1,000 if you do it the right way.
Offers "No Show" Transaction - Without your biometrics and a formal headshot, it's impossible to get a permit or driver's license ID. So, if an online fixer tells you that you can get a permit without visiting a branch, then that's definitely a scam.
How Long Does it Take to Get a Drivers License?
If you have complete documents upon visiting the LTO branch, the process will only take about an hour or two for new applicants. And if you're getting a renewal, it will be approximately less than an hour. This is usually the case if you're an early bird. Otherwise, if you go there during peak hours, expect to spend long hours, especially if it's a busy branch.
For applicants such as PWDs, pregnant women, and senior citizens, expect about an hour or less to get your permit via the special lane, provided you come early morning or before the peak hours.
In general, you'll get your driver's license within the day.
I Got Scammed By an Online Fixer. What Should I Do?
If you encounter online fixers, report them on the official LTO Facebook page[4]. Scammers will likely block you once they receive the money they claim as a processing fee. They may even delete the post or account they used to contact you, so it's unlikely you can reclaim your funds.
Final Thoughts
When it's time to apply for your driver's license, remember that you don't need any driver's license assistance. Just follow the tips above and you should have no problem getting everything done.
Remember to bring enough cash for the fees, dress appropriately, and come early to the LTO office so you can avoid long lines. And if you do run into any problems along the way, don't be afraid to ask for assistance. Just make sure you only transact with authorized LTO personnel inside LTO branches.
Fortunately, LTO's online system has helped Filipinos get a driver's license faster and easier. Aside from expediting the application, the digitalization of the process itself has curbed the talahib or shortcuts—the use of fixers to get a student permit or a driver's license.

Sources: