An efficient way to broaden your business opportunities is by tapping government agencies as a potential clientele. These agencies hold many of the biggest project bids for goods and services in the country.
Transacting with the government may require you to undergo various procedures and submit a lot of documents, but it can help grow your business in the long run. This is where PhilGEPS or the Philippine Government Electronic Procurement System[1] comes in.
In this article, you will learn how government transactions can benefit your business and how you can bid on government contracts using PhilGEPS.
Benefits of Business to Government Transactions
Business to Government transactions or B2G are transactions made between an enterprise and the government. B2G is the sale and marketing of goods and services to local, regional, and national agencies. It can be as simple as a small business providing catering services to a local government or a business as huge as a tech company providing cybersecurity to the national government. Below are the benefits of B2G:
Creates a stable cash flow. B2G transactions may create a stable cash flow for you and your small business as most government contracts are long term. Additionally, they may lead to new clients and referrals, providing you more sources of income.
Improves your network. Working with the government can open new doors for your business. It can help you build a relationship with other government entities and new clients.
Strengthens your business' credibility. B2G transactions can help build and improve your company's credibility because for some private sectors and consumers, businesses who have worked with the government are more reliable. Having a government agency in your client portfolio can also give you an edge against your competitors.
Now that you know the advantages of business to government transactions, you need to learn how to participate in government bids. Fortunately, the Philippine government has made the procurement process more efficient with PhilGEPS, an online portal where government agencies post their procurement requirements and where merchants can bid for contracts.
Read more: Business Permit Application Guide for First-Time Entrepreneurs
What is PhilGEPS?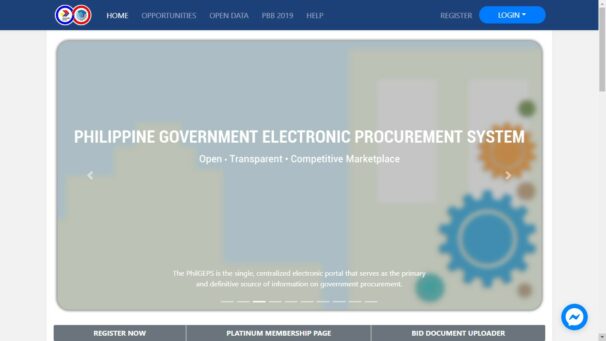 The Philippine Government Electronic Procurement System or PhilGEPS is an online portal where businesses and contractors can access the requirements for government procurement. It was established to automate the procurement process and to strengthen transparency in government contracts. They also help suppliers address different issues related to bidding submissions and adherence to the procurement procedure.
Suppliers and contractors can access government bid opportunities 24/7 through the site. They can also get a copy of electronic bid documents online. Additionally, the online portal provides information on government bid projects that can help market research and business decisions.
PhilGEPS Features
PhilGEPS provides information about procurement rules and regulations that suppliers and contractors should know. It also has the following features:
Electronic Bulletin Board. It is where you can see the latest news and announcements about the agency.
Open Data. This section allows you to access standard reports, lists of buyers, and other information related to procurement.
E-bidding System. This feature lets platinum members bid on government contracts online.
Virtual Store. The virtual store allows government agencies to order common-used items.

PhilGEPS Registration
National government agencies, government-owned and controlled corporations, government financial institutions, state universities and colleges, as well as local government units are all required to use the platform.
Suppliers, manufacturers, consultants, and contractors should also register to bid. To create a PhilGEPS account, follow these steps:
Go to www.philgeps.gov.ph and select "Register" at the upper right corner of the website.
Select your business operation type and civil society organization (CSO) from the drop-down menus and click submit.
Then, fill out the required fields for your registration.
Once done, wait for the confirmation email, including an assigned username and password.
The registration, however, is not automatic. You need to wait for the confirmation email before you can gain access, which typically takes 24 to 48 hours.
PhilGEPS Membership Options
There are two membership types you can use:
1. Free
Once registered, you automatically get a free membership. It allows you to access government procurement projects through the PhilGEPS website. However, you cannot bid using a free account.
2. Platinum
Platinum membership allows you to view procurement projects and bid through the website. It will also get you an issued certificate required for most government procurement contracts. The platinum membership fee of PhilGEPS costs PHP 5,000 annually. You have to submit the following documents to get a platinum membership:
PhilGEPS Platinum Membership Requirements
Business Registration Certificate (e.g. DTI/SEC/CDA)
Mayor's or Business Permit or its equivalent document
Tax Clearance Certificate
Philippine Contractors Accreditation Board (PCAB) license and registration (if applicable)
Audited Financial Statements (AFS)
Accompanied Sworn Statement
Read more: DTI Loans for Small Business: How to Apply for P3 CARES 2 Program
Once your documents are verified, you can pay the membership fee through any Landbank branches or directly at the PhilGEPS office. It takes two to three working days to process a platinum membership application.
Read more: BIR Online Payment Guide: Easy Ways to Pay Taxes in the Philippines
Final Thoughts
While there are many layers of procedures and requirements you have to overcome before bidding for government contracts, PhilGEPS can help you address these hurdles. A Platinum membership gets you a certificate required for most government contracts. It also lets you bid online for such contracts. B2G transactions can help grow your business by improving its credibility, creating a stable source of income, and expanding your network.
Source: [1] PhilGEPS Official Website