Women in the Philippines have come a long way in breaking gender stereotypes and the glass ceiling across industries. From running the household to climbing the corporate ladder, women have shown that they are as capable as men and can even achieve more.
In fact, the Philippines ranks first in a recent global survey on women in leadership roles, with 43% holding senior management positions. Grant Thornton International's 2020 Women in Business report[1] notes that Filipinas hold key positions in business operations—particularly strategy, finance, and people.
Even in traditionally male-dominated sectors such as manufacturing and financial services, we often see women taking the lead.
Moneymax, too, has two women leading the organization. In honor of Women's Month, we asked our general managers to share their thoughts and tips on leadership.
Meet Munmun and Pearl, Moneymax Co-General Managers
At the helm of the Moneymax leadership team are Munmun Nath and Pearl Joy Gonzales. Munmun heads the company's Marketing and Product departments, while Pearl is responsible for Sales and Operations.
Munmun joined Moneymax in 2017 as the Marketing Director—bringing over 15 years of experience working in several tech companies in India, the UK, and Belgium, including a stint as IBM's Product Marketing Manager. She specializes in market research, customer analytics, and product marketing.
With a career spanning almost 20 years in the financial services industry, Pearl had worked for various financial institutions and fintech companies such as HSBC and iMoney. Her expertise includes telesales, contact center and operations management, and business development.
Outside the workplace, Moneymax's top leaders are supermoms as well. Munmun is a loving mother of three kids. She and her husband of 10 years welcomed their new baby boy last January. Pearl is a proud single mom to her two children.
What Makes Women Great Leaders?
Time and again, women are perceived as too caring and kind to be good leaders—unlike the typically dominant and aggressive men. But Munmun and Pearl believe otherwise. Leading with both EQ and IQ is what makes women better leaders.
For Munmun, good leadership is no different from good parenting. "Women have a maternal quality—they're naturally nurturing and empathetic, which helps them understand other's perspectives better," she said.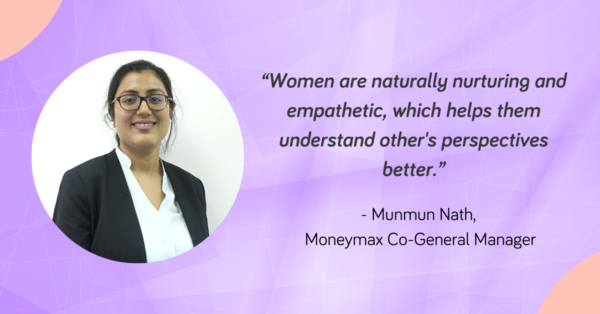 Pearl added that women can perform multiple roles effectively, both inside and outside the workplace.
"Women can wear many hats. They often balance managing the household, building or advancing their career, and being a parent, among others. Because of this, women can easily pivot, handle crises compassionately and patiently, and move quickly to solve problems," Pearl said.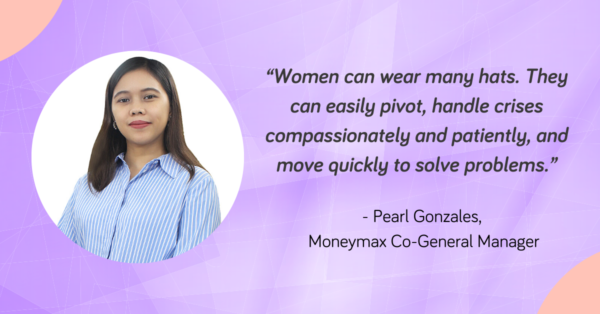 The crisis management skills of females are, in fact, backed up by data. Research found that women were perceived as more effective leaders than men during the COVID-19 pandemic.[2]
Related: 11 Empowered Pinays Who Prove That Success Knows No Gender
5 Leadership Lessons from Moneymax's Munmun and Pearl
How to be a better leader? Let the words of wisdom from Moneymax's co-general managers inspire you.
1. Be Ambitious and Bold, But Be Patient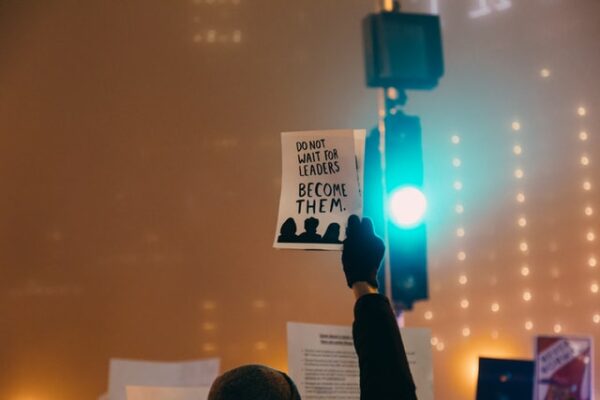 First, believe that you have what it takes to be a good leader.
"Leadership is for everyone," said Pearl. Ask yourself: 'What would I do if I weren't afraid?' So take the leap, be bold, do the work to succeed, and make it happen!"
Munmun has the same advice for aspiring leaders: "Be ambitious and believe that you can have it all, but be patient. Every day, make gradual progress towards achieving your goals. When things don't work out, be flexible enough to pivot."
As Citibank CEO Jane Fraser puts it, "You cannot have it all at the same time. You can have it all, spread over the decades."
2. Have a Growth Mindset
Invest in yourself—never stop learning and trying new things. Munmun advocates everyone to have this growth mindset.
A growth mindset means believing that one's talents can be honed through hard work, feedback from others, and sound strategies. People with such a mindset are likely to achieve more than those with a fixed mindset who believe talents are innate rather than learned.[3]
To upskill herself, Munmun actively seeks mentors, spends time reading books, and takes training. Recently, she has taken up a new hobby of refurbishing old wood furniture.
Even challenging times can be turned into a learning experience. Quoting former IBM CEO Ginny Rometty, Munmun said, "'Growth and comfort do not coexist.' Each time I deal with a difficult situation, I remind myself that it's an opportunity for growth."
Related:
3. Connect with Your People and Help Them Grow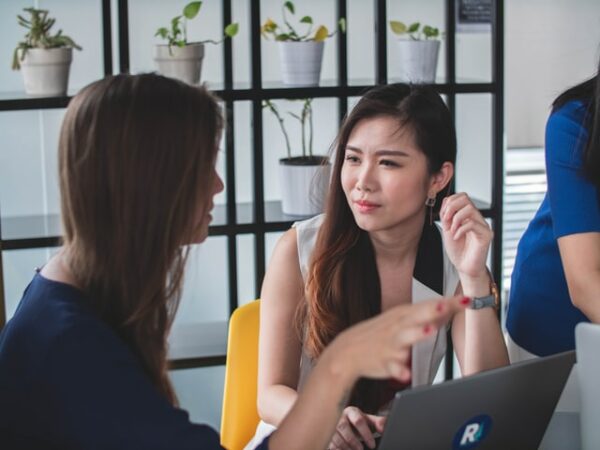 To lead a high-performing team, Pearl stressed the importance of putting people ahead of oneself.
"Connect with your team on a personal level and understand their values, motivation, and challenges. This way, you can build a good working relationship with your people."
Pearl joined Moneymax in August 2020 when employees were working from home due to the community quarantine. "The pandemic poses a challenge for us leaders in the workplace. How can we establish a connection with our colleagues when we don't meet them face-to-face? I make it a point to catch up with my people online regularly, ideally every week," she shared.
Helping people grow is a crucial goal for leaders, too. "I'm very passionate about making a difference in the lives of people around me. I feel most fulfilled and proud as a leader if I'm able to contribute to the development and success of my team members," Pearl said.
Driving home the point is Pearl's favorite quote by Facebook COO Sheryl Sandberg: "Leadership is about making others better as a result of your presence and making sure that impact lasts in your absence."
4. Manage Your Time Effectively
With so many responsibilities on their hands—leading an entire company and their households, not to mention raising their kids—how do Munmun and Pearl balance their work and family life?
The answer isn't simple, of course. But it all boils down to effective time management, a valuable skill for successful leadership.
Munmun shared, "I plan everything on my calendar, have set schedules for family, and keep many to-do lists plastered in print and on my phone. Working for an organization like Hyphen Group* that provides much flexibility to employees greatly helps."
*Note: Hyphen Group (formerly CompareAsiaGroup) is Greater Southeast Asia's leading fintech firm and Moneymax's parent company.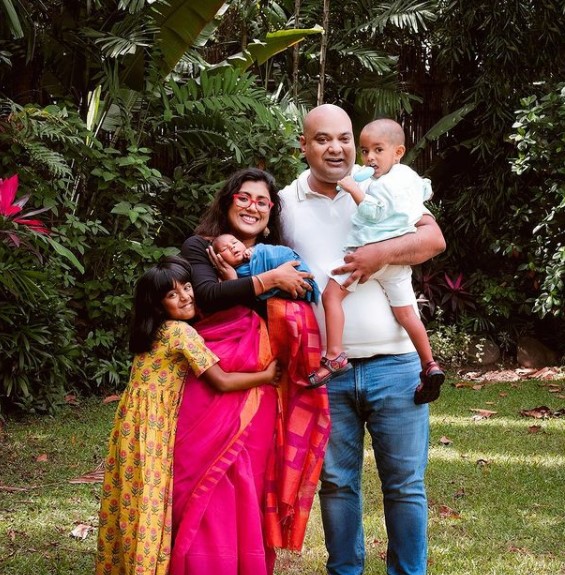 In Pearl's case, she's able to manage her time well with the help of her family. "Juggling motherhood, managing the household, and leading a team is no easy feat. I'm blessed to have my family to support me, especially on days when my work is extra demanding and stressful."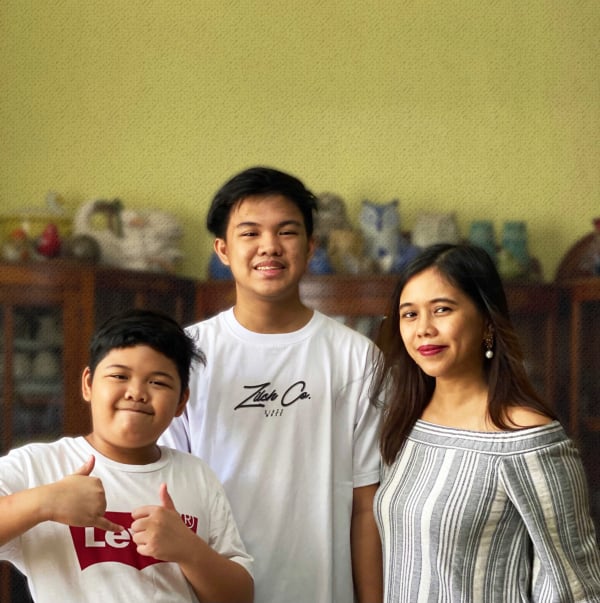 Both Munmun and Pearl also pointed out the value of learning how to delegate well, asking for help when needed, and learning to say no.
"Choosing what not to do is as critical as choosing what to do," Munmun said.
Related: 6 Best Workplace Skills You Can Learn Online
5. Inspire and Be Inspired
Leaders are always seen as role models. But for people who lead, having a role model is just as important as being one.
Who inspires the Moneymax Co-General Managers to become better leaders?
Pearl's biggest inspiration is her mother whom she always looks up to. "I am who I am today because growing up, my mom showed me how to be tough, resilient, and goal-oriented. Her humble beginnings and the challenges she overcame just prove that you can be successful in life despite the circumstances you're in and regardless of what life throws at you," she shared.
For Munmun, two empowered entrepreneurs come to mind: Spanx Founder and CEO Sarah Blakely[4] and ClassPass Founder Payal Kadakia.[5] She admires Sarah's spirit of hustling, sense of humor, and ability to raise four kids while running a billion-dollar company. Payal is also an inspiration to Munmun because of her creativity and drive.
Related:
Final Thoughts
Are you leading a team or aspiring to become an effective leader? Believe in your potential and take that first step in your leadership journey. Nothing can stop you! May these leadership lessons inspire you to become a better leader and help make others better.
Further reading: How to be an Independent Woman: A Guide to Achieving Financial Independence
This article was created in collaboration with Hyphen Group, in line with its Women's Week campaign celebrating the organization's female leaders.

Sources: